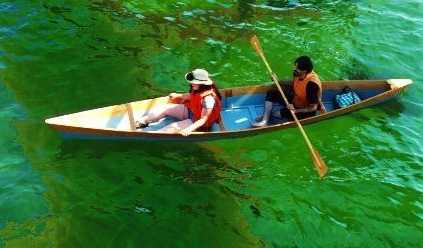 YUKON PERE Plans - 15-foot 10-inch long, 32-inch wide plywood tandem double-paddle canoe.
PLAN PRICE: $25 CDN
SKILL LEVEL: Beginner
CONSTRUCTION: Plywood on chines
HULL FORM: Flat bottomed
RECOMMENDED MATERIALS:
Mahogany marine plywood - planking
Fir or Mahogany - all other wood
Silicon bronze - fastenings
Spar varnish - trim and topsides
Marine enamel - lower hull, inside & out

Plan package: 16 x 34 plan sheet, 8.5 x 14 paddle drawing, illustrated instruction book.
This boat is the best in the 'Yukon' family for normal use by two paddlers. The beam is greater than the others to give more stability, and more load capacity for two adult paddlers and their gear. This design is the widest sixteen-foot canoe that it is practical to build from two pieces of plywood. It is also the maximum practical width for using a double paddle. The Pere can be used as a big single with the optional seating arrangement shown in the instructions. Pere (pronounced "pair") is French for father - this is the "Big Daddy" of the "Yukon" series.