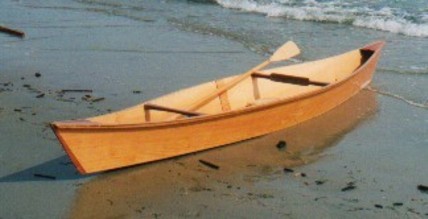 YUKON Plans - 14-foot long, 28-inch wide plywood double-paddle canoe.
PLAN PRICE: $25 CDN
SKILL LEVEL: Beginner
CONSTRUCTION: Plywood on chines
HULL FORM: Flat bottomed
RECOMMENDED MATERIALS:
Mahogany marine plywood - planking
Fir or Mahogany - all other wood
Silicon bronze - fastenings
Spar varnish - trim and topsides
Marine enamel - lower hull, inside & out

Plan package: 16 x 34 plan sheet, 8.5 x 14 paddle drawing, illustrated instruction book.
This is the original 1992 design, first in the 'Yukon' series, and is sized for normal use by a single paddler, with thwarts placed to give good balance for occasional use as a tandem by two young paddlers facing the other way. It is too small for use as a tandem by adults. It makes a good trouting or weekend camping boat for a normal sized adult solo. The one shown is built of fir plywood with mahogany trim.