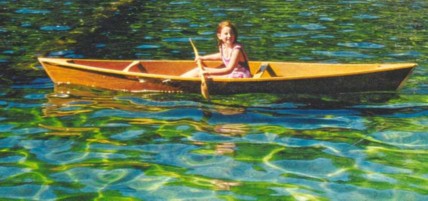 UKELELE Plans - 12-foot long, 26-inch wide plywood double-paddle canoe.
PLAN PRICE: $25 CDN
SKILL LEVEL: Beginner
CONSTRUCTION: Plywood on chines
HULL FORM: Flat bottomed
RECOMMENDED MATERIALS:
Mahogany marine plywood - planking
Fir or Mahogany - all other wood
Silicon bronze - fastenings
Spar varnish - trim and topsides
Marine enamel - lower hull, inside & out

Plan package: 16 x 34 plan sheet, 8.5 x 14 paddle drawing, illustrated instruction book.
This version is small and light enough for some ten-year-olds to carry by themselves. Two kids can carry it easily. It is more easily controlled in windy conditions than the longer boats. It will carry an adult comfortably for angling, exploring, or day-tripping, and is a good play-boat for two kids.