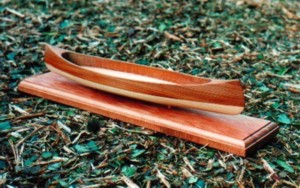 MODEL CANOE Plans - 16-inch classic mantel-piece display model Peterborough canoe.
PLAN PRICE: $6 CDN
SKILL LEVEL: Beginner
CONSTRUCTION: bandsawn & glued
HULL FORM: round bottomed
RECOMMENDED MATERIALS:
Softwood hull, Hardwood or softwood base
Varnish or oil finish

Plan package: 8.5 x 14 Plan sheet & patterns, 2 pages of instructions.
This model is fun to build if you have access to a bandsaw, and makes a good student project. It is harder to build using only a jigsaw or coping saw, but can be done. If carefully built and finished the result is simply beautiful and well suited to proud and permanent display. The wood required is in small 16 and 20-inch pieces which can be obtained from shop scraps. The example shown is made from cedar, spruce, and fir construction off-cuts and has been sanded, oiled, and hand-rubbed to a soft sheen.