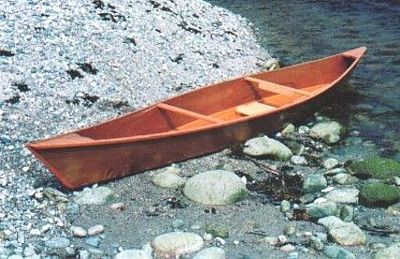 BIG YUKON Plans - 15-foot 8-inch long, 27-inch wide plywood double-paddle canoe.
PLAN PRICE: $25 CDN
SKILL LEVEL: Beginner
CONSTRUCTION: Plywood on chines
HULL FORM: Flat bottomed
RECOMMENDED MATERIALS:
Mahogany marine plywood - planking
Fir or Mahogany - all other wood
Silicon bronze - fastenings
Spar varnish - trim and topsides
Marine enamel - lower hull, inside & out

Plan package: 16 x 34 plan sheet, 8.5 x 14 paddle drawing, illustrated instruction book.
"Big Yukon" uses the full length of two sheets of plywood, and was designed in response to requests for a larger, faster boat with more carrying capacity than "Yukon". Suitable for teens or adults paddling solo, it makes a good trouting boat or short tripper with light summer camping gear. Performance will be best as a single, but two can use it as a play-boat facing in the other direction with the thwarts as backrests. Total weight in BIG YUKON should not exceed 350 pounds in sheltered waters. The one shown is built of mahogany plywood with fir trim and spruce seat.